Like all cities, San Francisco has clearly defined standards and building codes that regulate the construction of residential, commercial, and public spaces, including parks. However, San Francisco's standards are uniquely written to preserve the city's one-of-a-kind aesthetic and its 3,400+ acres of recreational green space. These codes encourage developers to create multifunctional areas that are accessible, connected, sustainable, and that reflect the city's many cultures.
The San Francisco general plan for recreational areas contains detailed guidelines for the design and construction of parks within city limits. Buddy Schum of Bucks County who recently visited the city, explores these guidelines in greater detail and discusses how San Francisco has managed to maintain its natural green zones while simultaneously providing public areas for everyday leisure.
Integrating Existing Spaces into Multifunctional Recreational Areas
In order to preserve San Francisco's 3,400+ acres of green space, the city's guidelines for park development encourage developers to integrate existing spaces into multifunctional recreational areas. These areas can include playgrounds, sports fields, picnic areas, walking and biking trails, and open spaces for public events.
In addition, all new parks must be accessible to the public and meet the Americans with Disabilities Act (ADA) standards. Park amenities must be designed and built to be safe and enjoyable for all users, regardless of age, ability, or background. In order to create truly multifunctional recreational areas, developers must also consider how the park will be used by the surrounding community.
Ideally, the guidelines seek to provide a solution for San Franciscan's everyday recreational needs, including areas for exercise, active sports, appreciation of nature and wildlife, and a place to house civic and public events/performances.
Creating Areas that Capture San Francisco's Diverse Cultural, Ecological, and Economic Background
In order to create parks that accurately reflect the city's unique character, developers must consider San Francisco's diverse cultural, ecological, and economic background. The city's guidelines encourage developers to create areas that are safe, welcoming, and inclusive for all residents and visitors. In order to achieve these goals, developers must account for the following:
The site's history and the surrounding community's needs
The existing topography, flora, and fauna
The climate and microclimates
The surrounding urban environment
The city's infrastructure
By taking all of these factors into consideration, developers can create parks that are not only functional, but that also capture the essence of what makes San Francisco such a unique and special place. This in turn helps to create a sense of place for residents and encourages participation in the park experience.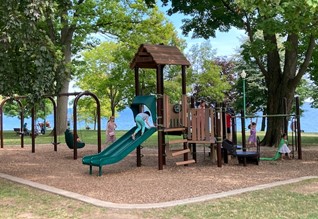 Parks Should Be Navigable, Connected, and Ecologically Sustainable
In order to create parks that are easy to navigate, safe, and enjoyable for all users, developers must pay special attention to the layout of the space. All new parks must be designed with pedestrian and bicycle circulation in mind. In addition, parks should be designed to encourage social interaction and provide opportunities for physical activity.
In order to create connected and sustainable parks, developers must also consider the surrounding urban environment. All new parks must be designed to interface with the city's infrastructure, including streets, sidewalks, transit, and utilities.
Furthermore, parks should be designed to use sustainable materials and practices, such as drought-tolerant landscaping, recycled materials, and water-efficient irrigation. By following these guidelines, developers can create parks that are not only aesthetically pleasing, but are also safe, sustainable, and enjoyable for all users.
Parks are Designed to Encourage Public Stewardship
The future and sustainability of San Francisco's parks can only be guaranteed if the public works together to make it a reality. To create a sense of ownership and responsibility for the city's parks, developers are encouraged to design parks that encourage public stewardship. This can be achieved by incorporating features that encourage users to take care of the space, such as public art, benches, and picnic tables.
In addition, developers are encouraged to work with local non-profit organizations, businesses, public agencies, and individual volunteers to create a sense of community within the park. By involving the community in the care and maintenance of the space, developers can create a sense of pride and ownership that will help to ensure the long-term success of the area.
Concluding Thoughts
San Francisco proudly boasts more than 3,400 acres of recreational parkland, which is uniquely designed and constructed to encourage community participation, sustainability, and wellness. By preserving its public lands, the city happily offers a solution for its residents' recreational needs and a venue for cultural events and performances. Together, city officials, developers, and individuals work together to benefit everyone.